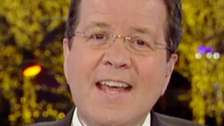 Fox News host Neil Cavuto came for his critics once again on Monday's episode of "Your World."
Mean messages from viewers who don't like his occasional criticism of President Donald Trump greeted the anchor on his return to air following a week-long vacation. So Cavuto, as he has done on multiplepreviousoccasions, read several of them out.
"Just when I thought Fox had finally fired you, I come to discover it was just a vacation. Pity," said one message.
Another read: "Hey, Mr. Never Trumper, how about never showing up for work? Hate to break it to you but no one misses you while you're gone."
Check out the clip here: